For Sale Authorized Seller Casio Ctk 2500 Standard Keyboard Piano Singapore January 2018
---
Product details of Authorized Seller - Casio CTK-2500 Standard Keyboard Piano
Features
An easy-to-play keyboard with an appearance resembling that of an acoustic piano.
Use effects to add reverb for more depth and breadth in your music.
[Availability] LK-265, CTK-3500, CTK-2550, CTK-2500
Use an audio cable to transfer 50 built-in songs from the app as well as songs downloaded as MIDI files and save them in the keyboard. You can then use the saved song data with the keyboard accompaniment function to enjoy the Step Up Lesson feature.
[Chordana Play 50 built-in songs]
LIGHTLY ROW
MUSETTE IN D MAJOR
LONG LONG AGO
CHOPSTICKS
SAKURA SAKURA
SONATINA op.36 no.1 1st Mov.
AULD LANG SYNE
RÊVERIE
MICHAEL ROW THE BOAT ASHORE
GYMNOPÉDIES no.1
HOME ON THE RANGE
WEDDING MARCH FROM "MIDSUMMER NIGHT'S DREAM"
SANTA LUCIA
AMERICAN PATROL
JOSHUA FOUGHT THE BATTLE OF JERICHO
SONATA K.545 1st Mov.
THE MUFFIN MAN
LA PRIÈRE D'UNE VIERGE
IF YOU'RE HAPPY AND YOU KNOW IT, CLAP YOUR HANDS
SERENADE FROM "EINE KLEINE NACHTMUSIK"
HOUSE OF THE RISING SUN
LARGO (HÄNDEL)
SHE WORE A YELLOW RIBBON
INNOCENCE
MY OLD KENTUCKY HOME
PROMRNADE FROM "TABLEAUX D'UNE EXPOSITION"
SZLA DZIEWECZKA
DOLLY'S DREAMING AND AWAKENING
TROIKA
LA FILLE AUX CHEVEUX DE LIN
WALTZING MATILDA
BEAUTIFUL DREAMER
ON THE BRIDGE OF AVIGNON
DANNY BOY
CAMPTOWN RACES
HUMORESQUE (Dvořák)
JEANNIE WITH THE LIGHT BROWN HAIR
MAPLE LEAF RAG
JAMAICA FAREWELL
CSIKOS POST
JE TE VEUX
MARCHE MILITAIRE 1
SONATA op.13 "PATHÉTIQUE" 2nd Mov.
BLUMENLIED
HEIDENRÖSLEIN
GRANDE VALSE BRILLANTE
HABANERA FROM "CARMEN"
LA CANDEUR
BRINDISI FROM "LA TRAVIATA"
AVE MARIA (BURGMÜLLER)
A piano roll showing the music score and finger timing is displayed on the mobile device's app screen.
Another fun feature is the ability to take 3-step lessons on the smart device itself using the virtual keyboard that appears on the screen. You can confirm the chords, melody and finger timing visually on the screen, while also using the scoring function to help you master the song. The 50 built-in app songs and your downloaded MIDI file songs are all available for use in your lessons.
[Availability] CTK-3500, CTK-2550, CTK-2500, CTK-1550, CTK-1500, LK-265, LK-190, LK-136, LK-135
Pressing the indicated black keys livens up the music with six dramatic sound effects!
Powerful lesson functions!
In the Lesson Lite, notes appearance on the display screen. Play notes on the keyboard in accordance with the instructions provided by Voice Fingering Guide.
If the keyboard senses you are having problems, it will help you by calling out finger numbers in a simulated human voice.
Built-in songs cover a wide range of genres for lesson play and for your listening enjoyment.
A wide selection of musical instrument tones supports play of songs from various genres.
An advanced Auto Accompaniment feature provides you with access to a large collection of ethnic rhythms from around the world, with a special emphasis on Latin rhythms. In addition to Bossa Nova, Samba, and other basic rhythms, you also get Cumbia, Reggaeton, Calypso, and more!
One Touch Preset automatically sets up the keyboard to match the currently selected rhythm.
ADD TO CART  NOW to Get this Special Bundle!
Get 1 Year Official Warranty by Casio Singapore Pte Ltd
NO HIDDEN Charges
61 Piano Style Keyboard
48 Polyphony
400 Built-in Tones
100 Built-in Rhythms
50 Dance Music Rhythms
60 Built-in Songs
Digital Effects
Lesson Functions
Sampling Functions
Preview Authorized Seller - Casio CTK-2500 Standard Keyboard Piano Models & Variations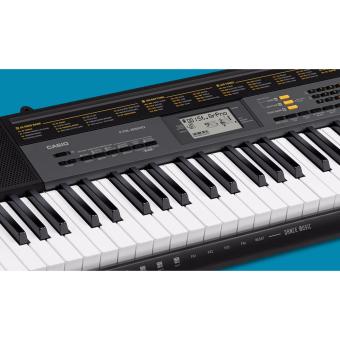 ---
Catalogue & Price List for Authorized Seller - Casio CTK-2500 Standard Keyboard Piano at Different Store & Seller